S80 COUNTERTOP PAYMENT TERMINAL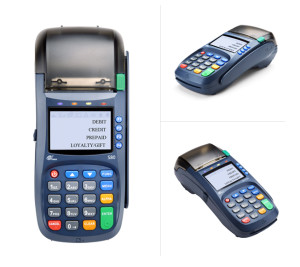 PAX's S80 is an advanced countertop POS terminal which combines innovation­, durability and high performance to assure faster, more reliable transactions.
The PCI PTS 3.x approved S80 offers advanced connectivity, equipped with various communication technologies such as GPRS / 3G (WCDMA), Ethernet and PSTN. An intuitive ATM-style interface and ergonomic keypad make operation easier for merchant and consumer alike.
The S80 comes with inbuilt contactless and powerful ARM11 processor, enabling support for multiple payment and value-added applications, making this countertop terminal one of the most reliable in the world.
Printer
Thermal printer, Speed: 25 lps
Standard paper roll: 58mm (2.25 in.)
Magnetic Card Reader
Track 1 / 2 / 3, bi-directional,  ISO7812
Smart Card Reader
1 user card, EMV
Contactless Card Reader (built-in)